Who is TIC Digital Marketing?
TIC Digital Marketing is a full-service digital marketing agency that helps residential remodeling contractors increase website traffic, generate more qualified leads, and book more jobs - allowing them to sustainably grow their businesses and reach their revenue and profit goals.
Our services are affordable, effective, and provided with friendly professionalism and care.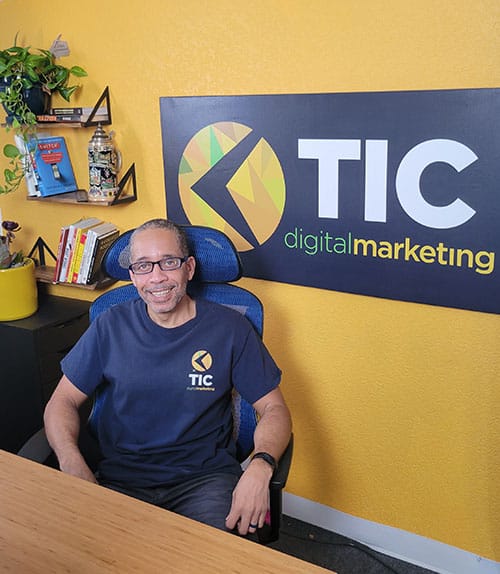 TIC Digital Marketing was founded by Eric Green, an entrepreneur & website developer with 20+ years of marketing experience. His previous company, The Impression Chefs, created websites for companies across a range of industries, helping them achieve success by establishing firm foundations for their digital marketing efforts.
Helping Small Businesses Meet a Need
Over the years, Eric noticed a common challenge: many small and midsize businesses, despite having well-crafted websites, lacked the expertise and resources necessary to maximize their marketing potential -  and couldn't afford to hire the professional assistance they needed.
To address this need, Eric launched TIC Digital Marketing to offer cost-effective, comprehensive digital marketing solutions tailored for small and medium-sized businesses. With a skilled team of professionals, we provide comprehensive services aimed at increasing website traffic, generating leads, and converting them into clients, helping businesses achieve greater success.
TIC Digital Marketing helps remodeling contractors keep their pipelines full by attracting and engaging potential clients - building awareness, providing education, and increasing trust - at every stage of the shopping process.
Services we offer include:
Our services are affordable and effective, resulting in significant business growth for our clients.
I had the pleasure of working with Eric and his team as one of my client companies was working through a long-term transformation of their online presence. Eric is sharp, efficient, warm, and professional. He answers questions completely, giving clear direction. Now that I'm focusing on my own businesses I'm looking forward to calling on Eric for help with my web development and inbound marketing.
Why We Chose to Work with Remodelers
TIC Digital Marketing's decision to work with remodeling contractors began when Eric was looking to do a renovation project in his own home. He noticed a trend with the digital presence of many remodeling contractors: While the larger, high-end remodeling companies had effective online strategies, smaller outfits had digital marketing challenges that likely hindered their success.
Many of these smaller remodeling companies had poorly designed websites with lackluster content and slow performance. Several had incomplete Google Profiles, limited social media exposure, and un-answered negative customer reviews - all making it harder to build trust and credibility online.
He also saw a lack of follow-up and engagement. Lead generation forms were not connected to autoresponders, potentially resulting in reply delays and lost opportunities. And some of the contractors he met with fell short with maintaining the communication and following up which is critical in securing new projects.
This experience, coupled with his additional research, showed Eric a clear need and opportunity to be helpful and make a difference. And so TIC Digital Marketing is committed to helping small and mid-sized remodeling contractors overcome these digital marketing challenges, improve their online presence, and streamline their lead engagement to get more clients.
We Understand the Needs of Small Business Owners
Owners of small and medium-sized contracting businesses often have to wear many hats. They've got to run day-to-day business operations while also being hands-on at job sites, ensuring client projects are completed successfully. Coupled with the responsibilities of home and family, days can be long and hectic, with various needs calling for your attention. While it can be rewarding, it definitely is not easy.
As a small business owner himself, Eric relates to the struggles that come with the role. He knows firsthand the challenges of working to both manage and grow your businesses at the same time - with limited time, bandwidth, and resources. And he appreciates the value of finding a trusted and reliable partner to help him succeed.
TIC Digital is ready to be your marketing partner and excited to help your business excel.
Want to Learn More About TIC Digital?
There are two great ways to learn more about us:
Ready to step up your
marketing performance?
Schedule a free call today so we can learn about
your goals and how we can help you meet and
exceed them.
Subscribe to Our Newsletter
Subscribe to our email newsletter for useful tips and valuable resources for growing your remodeling business with effective digital marketing.